PRACTICAL STEPS FOR FACING CHANGE: this is the third and last part of a three part series, Embracing life changes and Signs it's time to change your life.
As you already know, the first part was about why change is important in your life as we drew some wisdom from the eagle whereas the second part, focussed on elaborating signs that it might be time to make some changes in your life to advance forward.
In this third part, I would like to share some practical steps of how to be and act during the period of change. I think, when you do life with a sense of direction, it gets easier to navigate through.
I always believe that, in order to overcome certain challenges, there is like a sort of formula you need to follow to be unmoved by outward circumstances. That is, KBD we could say LOL:
Knowledge. Knowing what applies to you. Your soul, your dreams, your passion and your purpose.
Be-ing. Developing a certain character and attitude, inspired by a particular knowledge, to be in alignment with your life.
Do. Doing exactly what you learn. Learning and application. Even when you don't get it right the first time, practicing until it becomes a habit.
These three aspects, in my humble opinion, apply in that order.
You cannot be or become without knowledge first and neither can you do something well enough unless you align yourself with whatever it is mentally, spiritually, physically and emotionally.
Also, you can't just start doing something without laying a good foundation of knowledge and the character to go with it.
So in this blog post, know the practical steps, apply them, to become unmovable by outward circumstances before you can do the act of facing life changes successfully.
10 PRACTICAL STEPS TO APPLY FOR YOU TO FACE LIFE CHANGES SUCCESSFULLY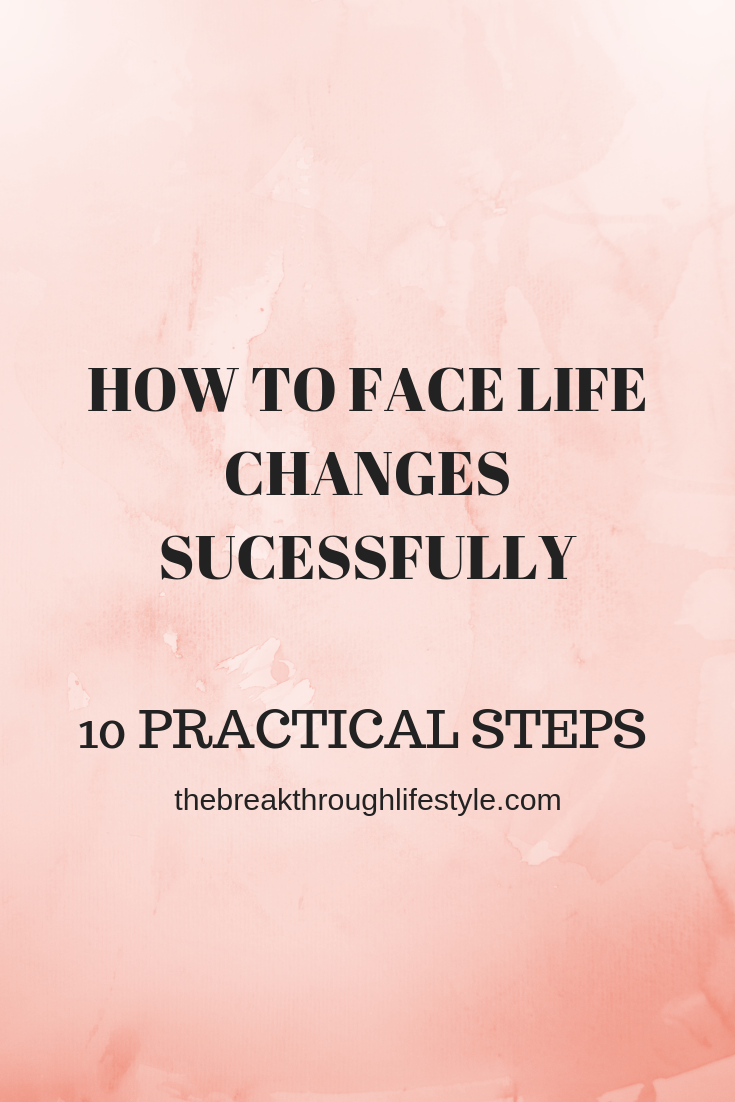 Below are the practical steps I can stand by and recommend confidently. This is because I have and still apply them and they work very well for me and I believe they will for you too.
I should also mention that, these are not the benchmark of what is and what is not.
Of course, there are other wonderful methods that can be used to face changes successfully but last time we agreed, an individual's knowledge and perception of truth is usually influenced by their reality yes?
So my experience and perception of my reality, led to this truth but of course it stands to be challenged. In case of anything. Other than that, as long as you decide that you want to accomplish something and be willing to stick to it and with it, It will work.
If not immediately, eventually. They say it is hard to attain perfection but when you pursue perfection, even if it's unattainable, at least you will be guaranteed to achieve excellence. For me I think that's much better than mediocrity.
Otherwise, lets get to bursting!! I hope you had a good day and the tea is brewing or you have your glass of wine ready. Whichever the case, follow my lead. I have some good stuff to share with you with a lot of love and soul. Ok! So…
Master yourself.
Use your imagination a little bit here for me if you will. You are at IKEA and you have purchased a piece of furniture. Before you purchased it, you saw the image which is usually a tiny picture that shows the end results. You like the picture and so you get the piece of furniture. Now, if you know IKEA, I assume you understand that most of their furniture is usually disassembled? Meaning you will buy pieces of wood with the necessary tools that you will have to assemble when you get home correct?
Okay! How do you go about it? I mean have you ever tried to assemble a piece of furniture without going through the user manual? It's a frustrating trial and error method that doesn't realize the image that led to your purchase correct? Alright! When you know that there is a user manual and you have to use it to assemble the furniture what happens? You follow the instructions and even if it will require effort, you save time and voila! Your furniture is ready for use. Yes?
By the same token, you and that IKEA furniture analogically speaking are no different. You will experience a lot of trial and error that doesn't lead to anything remarkable, as long as you continue to ignore your user manual which is basically God's guidance for your well-being.
The deeper you will delve into His knowledge, the more you will find out what God tried to do by placing you on earth because the fact here is that you are not a mistake. Regardless of the dynamics of your conception and entire being-ness.
The world needs YOU. There is something you are supposed to do here on earth and it's only you who can do it. Essentially that's why problems exist. They don't exist because we are being punished no. A war can start in a country just for YOU to go and deliver a special message of peace. For God to be glorified through you. Just to give you an example. Its dramatic yet simple as that.
When you know God, He doesn't make it easy for you. If anything the test of Faith is even harder but what happens is that He will show you parts of you that are your strengths and He will also expose your weakness to yourself. Then He will give you the remedies that you need to apply on both strengths and weaknesses. When you know your weaknesses, first of all nobody can ever use them against you in an attempt to belittle you.
Second, when you know your strengths, God will equip you with the ability and opportunity to leverage them. You must have heard that "when the student is ready the teacher appears". When you are responding accordingly and you are fully ready, you will be assigned to solve a special complex problem with unprecedented wisdom that can't be ignored.
More importantly, when you master yourself and truly understand who you really are, your value, what you can do and your purpose, nothing outside of yourself will bother you. Not opinions, people, things and or circumstances.
Also I will just give you a friendly warning: The less you know about yourself, people and things around you especially on a spiritual level, the more you are at a disadvantage. Some of the things you will learn in your spirit, might be very difficult to digest about colleagues, friends, family and even "enemies" but it will help you to stop bad things BEFORE they happen. However, this kind of knowledge, is only accessible through fervent prayer. In other words, be best friends with praying. Never be the type of individual that needs a traumatising experience to understand the power of prayer.
I will give you a very short and true story: Once upon my life, there was someone around me that I used to call a friend. Me and this friend one day decided that we should meet up. Actually, the person asked me to meet them. Somehow, the first day before I met with this person, I felt a very strong urge to say a simple prayer.
After praying, we were to meet much later and I had time to take a nap. So I took my afternoon nap. While I was asleep, I had a strange dream of this very person I was to meet up, lashing out at me and saying very mean and wicked things. Then I saw myself becoming so shocked, angry and wanted to defend myself but like every other dream, before I could do anything I woke up.
I sat by the bed and began to wonder whether my mind was playing games!? Anyway, I brushed it off, went to meet the friend and in fact shared the dream naively. Fast forward to two months or less, I met someone that was told really evil stuff about me which was not only shocking but also lies and a little bit hilarious. The funny thing was that, during the entire interaction, I could get that "gut feeling" that something was off but I ignorantly brushed it off. Fast forward to today, I don't have more than two friends and the aforementioned was forgiven and terminated without notice.
Which leads me to my last point of this part, after you pray, be on expectation and observation mode. God will always give you the cues, hints and signs when something is wrong for you and even when it's the right thing to do. Part of mastering yourself excellently without trial and error, is putting God first in all of your endeavours and surely He will lead, guide and protect you.
2. Eliminate Fear out of your system.
The reason why most people are afraid when faced with difficult changes, is because, they don't have a clue about what God is capable of or who He really is and thus lack faith.
We have already established that changing times don't occur to harm you but to advance and enhance you. They also come disguised as challenges but in reality they are often if not all the time blessings and breakthroughs.
My favorite story of God's power among many others, is when He was instructing a prophet named Ezekiel in a valley of dry bones. Which is one of my favorite stories and go to reminders when doubt checks in. You can read it in Ezekiel 37: 1-14.
Otherwise, the only way to overcome fear and make fearlessness a part of your lifestyle is to have indomitable Faith. The thing about Faith on the other hand though is that "it comes by hearing and hearing the word of God". There is no other alternative.
Today, people spend thousands upon thousands to attend seminars, buy books, listen to podcasts and what not about overcoming fear. That's very good. I have nothing against it but the rule of thumb is that "Faith comes by hearing and hearing the word of God". Not hearing the word of Abraham Hicks, Tony Robbins, Gary Vee, Oprah, Dr. Phil, your parents, spouse, friends, myself or anyone else but the word of God.
These guys are very good guys and I actually am an ardent listener to some of them. However, use your imagination again. This time we will use your phone. Let's say you have an iPhone and it has a breakdown. What do you think would be the best solution?
To take it to Samsung, Huawei, Sony, Nokia or the actual company that designed the software that runs the phone, which is Apple? and have you tried breaking your phone and then taking it to someone that is not the original developer of the phone? I have. The phone doesn't work the same anymore. Most times in fact, when you fix phones such as iPhone in local stores, you're left with no choice but to get a new phone. It's never the same.
By the same token, you were created by God and He is the only one who can transform you PERFECTLY from the inside out. I am not saying that other people's advice is irrelevant but I am saying, there are somethings that only God can fix. Not Tony Robins.
Establish a great relationship with the one who formed you in your mothers womb because what is more assuring than "Do not fear, for I am with you; do not be dismayed, for I am your God. I will strengthen you and help you; I will uphold you with my righteous hand."?
Get in formation. You will not be disappointed. I am assuring you that as a living testimony! Plus when times really get hard, the people you are clinging upon as your pillar of strength are going to leave you by yourself. Even those consultants will suddenly become to busy for you. Ask around. Only God can give you the rare kind of confidence that further terminates fear out of your system.
3. Be present.
"Therefore I tell you, do not worry about your life, what you will eat or drink; or about your body, what you will wear. Is not life more than food, and the body more than clothes? Look at the birds of the air; they do not sow or reap or store away in barns, and yet your Heavenly Father feeds them. Are you not much more valuable than they?"
"Can anyone of you by worrying add a single hour to your life? And why do you worry about clothes? See how the flowers of the field grow. They do not labor or spin. Yet I tell you that not even Solomon in all his splendor was dressed like one of these."
"If that is how God clothes the grass of the field, which is here today and tomorrow is thrown into the fire, will He not much more clothe you-you of little faith? So do not worry, saying, what shall we eat? or What shall we drink? or what shall we wear? For the pagans run after all these things, and your heavenly Father knows that you need them. But seek first his kingdom and His righteousness, and all these things will be given to you as well. Therefore do not worry about tomorrow, for tomorrow will worry about itself. Each day has enough trouble of its own."
What you should know is that the Kingdom of God is within you and your duty is to find it. You will NEVER find it outside of yourself or by worrying. See Luke 17: 21. You have to be present and focus within yourself. When you do, God will help with transforming you. It is never upon yourself to strive on what to do and how to act. The holy spirit living inside of you will do that under grace.
Otherwise, if you can do it by yourself, not only will you get disappointed but you don't need grace. The doctor is for the sick. So be present, live freely, own your faults, leverage your strengths and God will take care of the rest. A lot of people today pretend to be saints and perfect because they want to prove a point to people. You should do the latter.
Live without the need for validation, seeking approval or proving a point to anybody. Let Grace do the magic. You need to always think about the big picture. I have told you the things and people you're trying to win over don't matter. Sooner or later you will find that out. So, Presence. Presence. Presence. Presence and focus!!! Be in the moment.
4. Be non-resistant.
There is a stage in my life where turning the other cheek never made sense to me. However, I realized, turning the other cheek has nothing to do with somebody slapping your face so to speak. No. It is an allegory to mean do not resist the flow of life.
In fact, what you resist persists and where your energy flows, attention goes. Some celebrities are very aware of this and that's why when they lose relevance, they do something that will provoke the small mind to get a reaction. The Kardashians are the best at this excluding the Jenners.
Donald Trump, won the elections simply because so many people put a lot of negative energy towards him and he found himself in the White House. He was even surprised if you remember. It happens in other countries too during elections. The one that people don't want to win, is the one that will win. I can tell you right now that Donald Trump will go for a second term. I can almost even bet on it but to be safe I will not.
Second, for how long have black people to be specific, fought against racism? Now, racism is everywhere. In some places a bit subtle but in America, it is becoming the norm. Why? Resistance.
From what I have gathered, if my presence makes you so uncomfortable that you would do anything in your power to destroy me, that is a sign that you are very insecure and you need immediate help. Maybe even remember to take your medication since most people that walk around destroying others have all sorts of illnesses especially mental.
A lamp is never lit to be hidden under a basket. It should be placed on the mountain top for everyone to see. Instead of trying to dim the light, be smart and find a way of lighting your own lamp.
Otherwise, I say, the day black people will continue doing what they need to be doing, instead of going against the small thinkers, things will be different. Do your part and let God do the rest. I cannot stress this enough: You will never be disappointed.
People hate what they're either intimidated by or don't understand. Do you want to waste your life addressing other people's insecurity or do you want to increase your value so that you can be ready for your purpose?
There are many other examples. War against poverty which is created by the way, Drugs, Terrorism, government leaders, your spouse and enemies. What you resist will persist. Second, what you might be resisting, exists to work for your good not against you. Especially when you keep your heart right.
When Aunt Flow is around, I fail in this part but while I am failing, I remember and snap back. Be proactive about this, fail forward and practice until it becomes a lifestyle. Don't do anything in an attempt to defend yourself. God watches everything and He says "vengeance is mine". It is hard but the best things are hard like that. That's why its not for everybody. From today, when you face resistance, allow it to happen. Later on it will turn out to work for your good. Please know the difference between the art of allowing and becoming a door mat while at it!
5.Pray and meditate.
The best victories you will ever have will come through fervent prayer. At least from my experience. Just the other day I was going through my prayer journal and I realized, God is faithful. Sometimes we can get so lost in being busy that we fail to be aware of an answered prayer. That's why as mentioned above you need to be present.
I know you have heard of the Pareto Law or whatever its called. For this case, spend 80% of your time in prayer and meditation and 20% pursuing your endeavours. God comes first if you want to get most aspects of your life right.
I am very disappointed today with most churches because they are exactly what Jesus called "a den of robbers". Where, most of the preachers are good sales men with perhaps proper neuro-linguistic programming techniques and good knowledge of people's vulnerabilities. Making money out of people in God's name. The church was purposed to be a house of prayer. Not a place where sister A and brother A gather up to condemn brother and sister B, as the pastor is selling handkerchiefs and anointing oil!! It was not a place to develop self-righteous attitudes driven by religion rather than grace.
Due to the events happening in churches today, I say this and take it with a grain of salt, pursue your prayers in private just as advised by Jesus (until you find a proper church). Go to your room, close the door behind you and do it in secret. God says what you do in secret will be blessed publicly. Get in to the habit of ceasing to prove anything to anyone standing on this earth. If you need to show off how holy you are by praying publicly, loudly and dramatically like most folks do today, you are missing the point.
Go to God in your weakness and vulnerability and pour your heart out in private or at heart. He is the best confidant. He will not gossip around like people do when you share your problems with them though He will bless you publicly. In fact He loves it when you keep Him busy.
Equally important, let me further highlight for you the benefits and power of prayer:
prayer is your secret weapon
prayer is the force that shapes the world
prayer puts God in full force in the world
Failure to pray is failure in life. (and you might think you are successful or a failure but this is a subjective topic.)
When faith ceases to pray, it ceases to live
The most important lesson we can learn in life second to loving even our enemies, is how to pray
The very life and prosperity of God's cause, DEPEND on prayer
The believer who is the most highly skilled in prayer will do the most for God through Him
Prayer has the incredible ability to arrest and change even the purposes of God
The more praying there is in the world, the better the world will be and the mightier the forces against evil
When God's house (the church) on earth is a house of prayer, then God's house in heaven is busy and powerful in its plan and movements
The one who can wield the power of prayer is the strong one before the Lord's eyes
The greatest benefactor this age could have is the man who will bring THE PREACHERS AND THE CHURCH BACK TO PRAYER. Not sales, self-righteousness and gimmicks!!
Let me be very clear: Sales is very good. Actually everything in life almost is about sales BUT not in Church like its happening today.
Teach yourself how to pray and meditate. Be still and know… make it a habit. It will transform your life in full precision. It will make changing times in your life even more fun and by the way you will be in optimal health, have true joy and a peace that me personally I cannot describe, when you make this part of your lifestyle.
Also make friends with people who can pray. If you and your friend cannot pray for each other practically minus that "I'll pray for you" thing people like to say, switch it up!! Don't waste your time with irrelevant interactions. Better to be alone than have company that doesn't enhance you in any shape, manner or form.
6. Solitude and Isolation.
You cannot hear clearly when you are in a noisy environment. Correct? Get rid of the noise in your life. You know best where the noise is coming from. Many people today, are afraid of spending time alone or being alone without feeling lonely. You feel the need to be somewhere, with people, obviously talking about things that are irrelevant to your purpose and future and doing things without really knowing why you do them. Mindfulness is lacking.
Of course, as I say this, I am fully aware that we are social human beings. Personally, I am a very bubbly person, when I am in an environment I prefer with people that I like and enjoy their company but just like a car needs to be taken for servicing, you also need to learn how to separate yourself from the masses and focus on you. One cannot pour from an empty cup you have heard?
Spending so much time with people and very little with yourself in silence adding value to who you are, can actually lead to mental health issues. Do your research about this and correct me if I am wrong. Plus if an eagle needs to isolate itself to regenerate, don't you think you also need some alone time from time to time to readjust?
Personally, I am very obsessed with solitude. I find that it empowers me. I like to spend my alone time praying, studying books from people I admire and the bible. Discover new recipes, places to perhaps spend less and have value, journaling, pampering myself, reflecting on areas where I need to adjust, sometimes really sit quietly and listen to that voice inside of me, make a gratitude list, create a vision board, rest, have some wine and plenty of tea… I mean I love being alone and my experience is so good that by the time I consider to be in your company, you must be offering more than I offer myself.
For you to be an individual with substance, you need to spend a lot of time in isolation focussing on your own development. Fine tuning your character to match the vision you uphold and what is required for your purpose!! If you must be around people, make sure its not more than three and you believe in the same things to avoid toxicity and further dysfunction.
Nowadays, I like to make friends with people that are smarter and wiser than me. I don't want to be the friend that is the mother of the group nurturing everybody and nobody nurturing me. I have become a bit selfish too. I like my folks, empowering, goal oriented, focussed with good hearts further reducing unnecessary drama. If anything, there is nothing I hate like having to watch my back or dimming down myself to make somebody else comfortable. Nonsense has ceased to be tolerated in my life and I'm telling you this so that you can try it to see if it works well for you.
I can also assure you, especially if you like to have large crowds around you, assuming you have 10 friends for example. Out of those 10, 9 of them don't like you. Another thing, when you will start thinking different from these 10 friends, you will become an enemy in the group. Your wisdom or whatever it is will not be welcome.
So be very very tactful and wise in this area of friendship because, better to be alone working on yourself than keep the wrong company. I like peace of mind and it's important that after my solitude session I am surrounded by peaceful people. Thinkers, believers, risk takers and honey badgers haha I kid but you get me!
Get comfortable with spending time alone. Even Jesus from time to time would isolate Himself to go and pray. So does the eagle. Why shouldn't we?
7. Have a vision.
The vision you uphold, is going to drive you first of all and then second of all, it will keep you grounded. One of my favorite wise sayings goes "a knife cuts because it has a narrow focus". Today, we have so many people, reference social media comments and tweets, who are just angry, uncouth and will say the most evil things to strangers in the name of being bothered by the content they post. People like this, who get easily triggered, don't have a vision and as a result no sense of focus. That's why they are negatively available.
A vision is like a bridge between your present and your future. The picture of where you are going, what you will do, how you will feel, impact, inspire etc which will keep you grounded. It will empower you to embrace change no matter how difficult it is because your eyes will be fixed on the bigger picture.
There are people that seem immune to difficult times you may have noticed? Like things could be crumbling down, they get one bad news after the other but they still seem focussed, joyous, enthusiastic and positive? Also every time they "bounce back"?! It's not because this kind of people are special. They believe in something bigger than themselves, their environment and or situation.
Why I keep saying get to know God, it's because He will give you good reasons why you should have a vision and even show you how to do it. Firstly, in the book of proverbs its written "where there is no vision, people perish", of course you're going to perish because you will fall in anyone's plan if you don't have a plan of your own which will lead you to doing things you are not passionate about or is not your calling thus sucking at it and further ruining your confidence. You will be surprised at how many people today are in jobs they hate, doing things they actually suck at just to pay the bills while losing themselves everyday without knowing it!
Anyway, after you have been told to have a vision, you are further instructed on what to do when you formulate this vision in the book of Habakuk "record the vision and inscribe it on tablets, that one who reads it may run. For the vision is yet for the appointed time; it hastens towards the goal and it will not fail. Though it tarries, wait for it, for it will certainly come, it will not delay".
That's how you handle your vision. So get a vision board or write it down. God says when you stay reading this vision it will drive you and it will come to pass in its appointed time. It will enable you to achieve your goals and it will never fail you even though it might take time. Furthermore, no matter how long it takes, it MUST come to pass.
Just to be a witness to this, so many things I have had as my vision have come to pass. Whether I wrote them down in my journal or stuck them on my vision board. It is so amusing actually how this happens. One thing I have come to learn in this process is that the bigger your vision, the longer it will take to manifest but it will never fail.
If you go on youtube, you will see so many testimonies of people that put their goals on vision boards, acted towards it and manifested their desires. That's how true to the word God is.
So, if you want to be unmovable on this planet, have a vision! Write it down. Focus on it and act upon it day in, day out. This way, you will be very busy, having fun and never in the crowd wasting time in useless activities.
8. Lead a healthy lifestyle.
You are what you eat, people you surround yourself with, books you read, conversations you have, music you listen to and every other thing around you.
I have experienced being around gossipers for instance. While I don't like gossiping, by association, I have caught myself participating in this wicked behaviour back in the days when I didn't know what I now know. Bad behaviour is very contagious you have no idea. That's why I recommend being surrounded by people who believe in the same things as you. If you do not believe in gossip and your so called friends like to run their mouths like a burst sewage pipe, there will always be a problem sooner rather than later and you will be next. So, incorporate a healthy relationships in your life. They say great minds discuss ideas and small minds discuss people. Do the math!
Secondly, get in to the habit of having a healthy diet. I like Indian food, I follow the Mediterranean and Paleo diet mostly, while incorporating Ayurveda which focuses on balancing the elements of earth: fire, air, earth and water. After eating these meals, I feel so good, it tastes delicious and I maintain a healthy weight. Actually I am such a healthy living perfectionist that it is so hard for me to put on extra pounds.
Thirdly, exercise five to three times a week. Sweating is good for you as it releases toxins that are likely to impede your brain functions. You also stay inspired after a good workout session. Or is it just me? Then hydrate and have fun with this. Look for inspiration on Pinterest. They have tones of guides on how to make drinking water interesting as you detox your body. I like to have cucumber, strawberries, ginger, a tablespoon of ACV, a dash of cinnamon and some mint leaves in my 2litre bottle. I also do a lot of smoothies that's why you should follow me on IG for inspiration.
More importantly, get rid of toxicity in your life. For me toxicity is anything that interrupts your peace, dims your shine and distances you from God. You will always feel the energy that somebody or an environment is not right for you. Be it a friend, spouse or even family member. I told you God will always show you, to protect you from disappointment. Though He won't force you to abhor to His warnings. So you pay attention and take action.
Not many people talk about this but family members too can be very poisonous for your wellbeing and your biggest and worst enemies are usually friends and family. Act wisely.
Furthermore, subscribe to positive and uplifting music, channels, podcasts and educative or enlightening TV shows.
Above all, focus on God more than anything. Pursue Him like your life depends on it and your life will come together while you are at it. He says, "cease striving and know that I am God" and also says "seek first His kingdom and righteousness and all these other things will be added unto you" so strategise wisely.
Otherwise a healthy lifestyle doesn't end at eating and exercise. It's basically living with intention and deliberately!! Aligning your mind, body and soul simultaneously.
9. Be patient.
Patience comes when you have Faith in God. Without faith, it's extremely difficult to be patient and lack of patience can kill your dreams and even you as an individual. So many people get impatient with the process of their journey that they decide to forfeit God's promises, sell themselves short and take matters to their own hands by doing very interesting things. You know what I mean so I won't go in to details about that.
You, focus on waiting and patience. Personally, I would rather be slow in my progress but be sure I am going somewhere. I really am not in to trial and error. I love calculated risks and big leaps of Faith. The reason I am comfortable with this is because I decided I have nothing to prove to anyone but God and I don't need validation from anybody.
This keeps me from behaving and or acting a certain way out of my willingness. I move with God's speed and I trust Him undoubtedly every single step of the way. I know He always has my best interest at heart and if He puts me in a certain position it is for a good purpose so I will grow through it patiently.
This mindset, has given me so much peace in my heart. Otherwise naturally, from a flesh standpoint, I am a very impatient individual but experience has taught me it is not a valuable trait. Actually to confess in truth, I am patient with God but with humans I am still trying to get a hang of it.
I mean I que and all of that but ignorance for instance makes me lose my patience in a jiffy and I have my moments! I told you this is not a saint's cathedral. This is a human being under grace figuring life out just like you hehe! Mostly so when Aunty Flow is there I keep telling you, I am hitler, Idi Amin and Stalin combined. I really still don't understand why it happens that way but most of the time, I isolate myself during this short period of womanhood so that we can avoid chaos hehe.
10. Non-attachment.
You can love something without being attached to it. Whatever it may be. Otherwise, if you are attached to things, people and circumstances it will be difficult for you to allow new things in to your life such as change and whatever else. Part of pure love is learning to let things go and or be. This in return will even make non-resistance easier. It will prevent stress, disappointments and possible disillusions.
The best way to go about this is to drop your ego, pride and the need to be in control. You can be a very strong minded, confident individual without those three traits. When you do this, you will start appreciating things, enjoying them and understanding very clearly in your head that nothing in life is permanent. I feel like this also keeps you grounded. When you are attached to something, its very easy for you to take it for granted. So appreciate it in the moment, let it go and move on with your life. If it's yours to keep, repeat this same process until the end of time because attachment creates control, control leads to fear and fear leads to desperation. When you're desperate, nothing good in life happens to you and or for you. You will keep finding yourself in desperate situations and attracting desperate people then live a desperate life eventually.
That's all I had in my mind. I hope you enjoyed the read and they will be helpful to you. I also welcome other applicable tips for facing life changes. Besides that, Thank you so much for reading.
A few things I want you to do as your assignment hahah!
Share this with somebody who needs it.
Pin it for future references
Drop your e-mail at the side bar for upcoming posts live in your mail.
Leave a comment and lets have some discussions IF YOU WANT.. about how you tackle changes or what you think about this generally?
If you must know by the way before you go, It is always my delight to write to you and knowing that you actually read this. It makes me happy and inspired to write some more. I look forward to sharing more ideas, engaging with you and all of that Jazz hehe until then, stay cute and have a lovely day.
XO,