Autumn is here and if you ask me, I think it is indeed a season of the soul rather than nature. Play the video below as you read through, relax and let go of your tiresome and busy schedule.
We went to the park in the afternoon to take a walk and as soon as I saw the fallen leaves and variation of colours, the inner girl in me came out to play.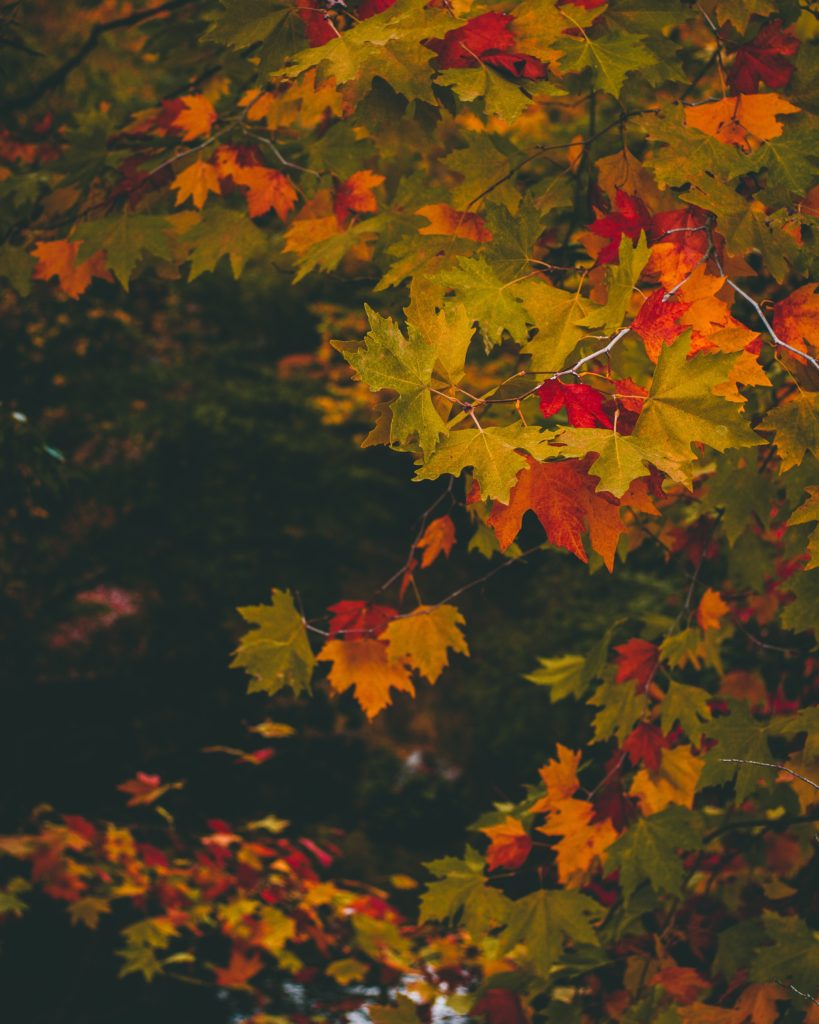 The crunch of the leaves when one walks on them, the beauty of the trees from leaves changing colour, birds chirping, the calm, serenity and the wind blowing across the trees had me hooked. A part of me wished that I could've carried a mug of something hot if it were possible and a good book to watch the sunset as I marvel at the beauty.
As we were walking, I could notice birds flying so freely and chirping melodiously, the beautiful dead leaves spreading all over the field and the blend of green, yellow and maroon. The apples which I was planning to harvest, had already disappeared too. Some people were faster than me it seemed when it came to free apples haha! There was also rakes scrape across lawns and on the side walks.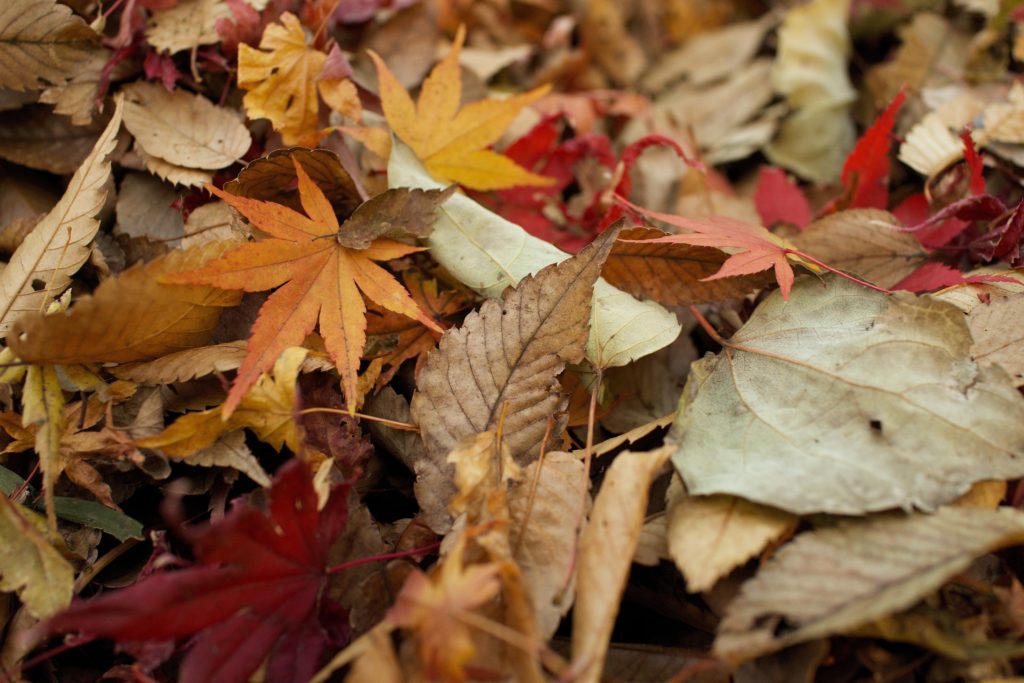 What really caught my eye, was mushrooms growing underneath decaying leaves. I actually stood for a good minute to stare at the mushroom and I thought it was intriguing, inspiring and wise.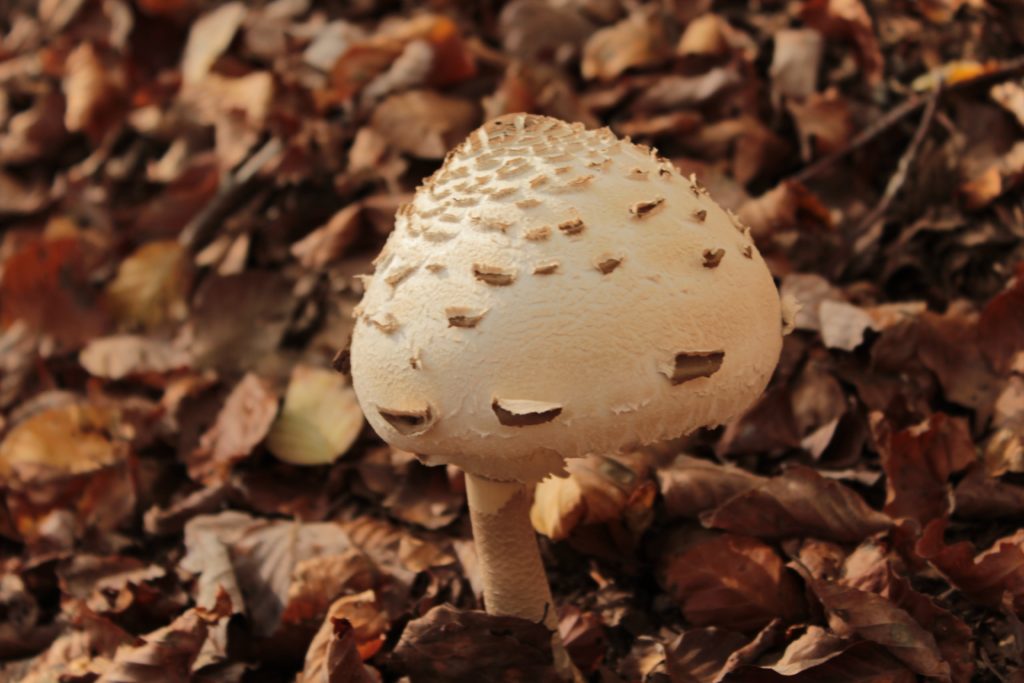 When I got home, I kept thinking about the mushroom but first I needed a hot shower, a good DIY mask, have some dinner then look into the mushrooms. I felt like they were telling me something.
Could you imagine growth in decay? I find that very beautiful. As in, the season of fall is all about the process of rotting and decomposition yet the mushroom still finds room to defy the odds, sprout through and grow.
I looked at it as if it were a person and I saw patience, resourcefulness, resilience, endurance and perseverance.
Decay, doesn't sound like a fun environment to grow on. Things are dead, dying, its wet and winter is on the way. Nevertheless, the mushroom seems to enjoy and thrive in this kind of environment.
I mean, I know compost is great for the soil but for this case, proper decomposition has not taken place yet which is why I found it fascinating.
As I was looking at it, I immediately remembered one of my favorite Bible verse in Isaiah 43: 18-19. "Forget the former things, do not dwell on the past. See, I am doing a new thing. Now it springs up; do you not perceive it? I am making a way in the wilderness and streams in the wasteland".
If you walk by Faith you know, logic and faith is like paraffin and water? Logically, a way in the wilderness and streams in the wasteland don't make significant sense. Technically without technological infrastructure, this is actually kind of a hard impossible duty… but God is known to make a way where there seems to be no way.
If you look at this mushroom, things kind of go in to perspective. Autumn is known as the season where nature is at the grand finalé stage where everything dies by the time the season is done but here is the mushroom against the odd. Growing and thriving. It's almost as if its spring in the mushroom world.
Many times in our growth process, we are likely to encounter odd situations that defy the possibilities for our advancement and growth.
Maybe you have a dream but nobody in your family has ever achieved something significant. You're in a situation and the best option is to either give up or perhaps incur mental illness. You could even be in toxic friendships and or relationship and you have settled in afraid to stretch forth to the unknown. I mean, think of anything that is not working in your life and look at it as dead and long over due. Like the mushroom, grow above it.
Honestly I even put grief in this context. Some people, spend a huge number of years mourning the loss of a loved one. Trust me, I know how painful it can be to lose somebody close to you and I think everyone can empathize with this but it is important to move on with life. God says, we will re-unite with the people we love and lose along the way. Don't spend years in pain due to loss. Don't get buried by dead things. You could be hindering blessings from your life and new opportunities.
Like the mushroom, strive forth and bloom in your environment despite the "facts" and "logic".
In a season where everything is dying and rotting, the mushroom chooses to grow.
Right now, there is a lot of moral decay and the hardening of hearts but like the mushroom, grow above it. If a mushroom can do that so can we.
Outgrow bad relationships, toxic friends, terrible jobs, negative people, ruts and grievous situations. Move on and watch God make something out of your nothingness.
If a mushroom can grow under dying leaves, what of you who has the resurrection power within yourself?
Other lessons I learned from Autumn were:
Gratitude: I think, sometimes letting go of something without attachment is a sign of gratitude. When summer was here, the green on the trees served their purpose to us and the environment at large. We enjoyed everything about it from the fruits to the flowers to the butterflies. However, nature realizes "the earth is the Lord's and everything in it" so when it comes to releasing the season of summer in form of Autumn, instead of it grasping to it's leaves, it lets them go. It recognizes that its time to move on. To allow something new to come in. We enjoyed the summer, we are so grateful and it's time to let go and move on to the next season. Gratitude.
Trust and surrender: When you can release the old, it is a sign that you trust the process and therefore find it easy to surrender. It is very freeing when you release yourself from things that no longer serve you. Like the trees release the dead leaves. It is also exciting to anticipate for what's next like, look forward to the next season of our lives. Nature knows, it has to release the old leaves and be prepared for winter. When we are grateful and open to new things, growth is less stressful or painful. If anything, you can see how beautiful Autumn is and the same can be in our lives. Say yes to letting go, trust in the process and surrender to God especially when everything is from Him. This way you allow new seasons with an open heart.
Rest, Readjustment and Reflection: As soon as every leaf has fallen off, decayed and decomposed. Even the mushroom will have to adjust because winter comes. A season of nothing but darkness, snow, extreme cold and harsh winds. When its winter and you take the time to look at the trees, they are always admirably still throughout the season. Somehow they trust the process and they sort of know in four months they will be green again. The same applies for us. We will always face difficult periods in our lives from time to time. Like the tree, be still and use the time to let go, be thankful of what worked, rest, readjust and use that time to reflect as you allow God to be God in your life. If a tree has such discipline to respect seasons without resistance so can we!!
Beauty in everything: It is a beautiful process from Autumn's perspective, when you let go of dead things. You achieve freedom and great peace. Look at the dry leaves? The transitional colors on the trees? What does it smell like? Listen to that awkwardly beautiful sound of the leaves as you walk on them? What of the rain drops on your window on a weekend? Cozy right? Yes winter is coming which is also beautiful on its own merits but so is Autumn. When I got to the park, I got my shoes wet and hands dirty from playing with the leaves and rolling on the wet grass because I told you I have my childish moments. Even if it was cold, I didn't want to leave because everything was so beautiful and felt good. There can be beauty in dead things. When Hitler died people celebrated. When some relationships end and you allow it, it not only frees you but you meet the people that are right for you. There will never be a day if you fully trust in God, that you let go of something and not find beauty in the process and something better. Ask around.
Letting Go: Of course every single process of Autumn revolves around letting go but it is important for us to learn how to let go. Especially when there is a clear sign that it is over. Not necessarily from a relationship stance but in life in general. God will always give you a signal that it is time to shift to the next season and this often comes in form of turmoil, discomfort, sudden confrontation, breakups and loss. Allow it to happen. Be grateful for what was, focus on what is and expect in Faith what will be. Most of us waste a lot of time "fixing" dead situations. I personally believe, the fixing part of ourselves and situations has never been our business. It is only God who can do this perfectly. I have tried to fix things before in my life. Not only did I lose myself but I failed miserably while at it. I have also seen people who "fix" things and get back to a problematic situation thinking it will be different only to end up in a worse state. Sometimes things don't work because they are not supposed to or because God wants you to surrender like Autumn and trust Him for your own advancement and what is right for you. Also, when it comes to people, I am beyond confident and can assure you, you don't have the ability to change a person. It is only God who created the person that knows what to do and undo. So, if you are facing difficult people and situations, take notes from Autumn and release it. You will be fine if not better.
Otherwise, I love Fall so much. It is one of the wisest seasons among the four. Also, can we just give God a round of applause for being perfect in all of His ways? Everything He is a part of has fascination to it. Mind boggling details aside. I am so sure, He had a purpose when He created that interesting Mushroom and I don't mean Psychedelics before you start getting any ideas. Sometimes the purpose could be good nutritional value and wise reminders in season about how He works.
Indeed…
"To everything there is a season, and a time to every purpose under the heaven: A time to be born, and a time to die, a time to plant, and a time to pluck up that which is planted. A time to kill, and a time to heal.

A time to break down and a time to build up. A time to weep and a time to laugh. A time to mourn and a time to dance.

A time to cast away stones and a time to gather stones together. A time to embrace and a time to refrain from embracing. A time to get and a time to lose. A time to keep and a time to cast away.

A time to rend and a time to sew. A time to keep in silence and a time to speak. A time to love and a time to hate. A time of war and a time of peace."-Ecclesiastes 3:1-8
It's important to be mindfully aware of the fact that, we are always in a constant mode of seasons, transitions and evolutions "that work together for good..". So what we ought to do is "give thanks in all circumstances; for this is God's will for you in Christ Jesus". Actually as I conclude this, I am also remembering a word from Paul that says "have gratitude and contentment for what you have presently and be attached to nothing for everything is fleeting". I have spend one hour trying to find where specifically that is but my mind must be tired because its 01:07 a.m and I need to sleep.
I want you to be inspired by Autumn and start preparing your fabulous jackets and coats for winter. As you well know, there is no such thing as bad weather just bad cloths and use these two seasons Autumn-Winter wisely.
Some of the best ideas we have today such as Skype, Spotify and Swiss watches, were made around this season to winter time. So perhaps, this cold seasons limit us indoors so that we can slow down and unleash our inner creativity and find "He who is in us". It is not a time to be wasted reminiscing on the past. I think.
Otherwise, thank you for reading. Gird your loins, go ye forth, live and prosper!!
Happy Fall too!! Don't forget to keep it warm and embrace the processes and seasons.
Also share with me some inspirations you have drawn from Autumn or cold seasons in general. I wanna know!! I am also curious, if you see what I saw in the mushroom…i also found this really interesting video of falling leaves and I love it!
XO,